Considering the destruction and the downhill progress of the economy during the past two years, predicting what the future holds is a very tricky question. It is one question that even the experts are wary of answering as they do not know what the coming year hold for the world.
According to a UK dissertation help firm, learning and development is one process that never takes a back seat, but this pandemic hit the world so hard and so bad that even learning was affected by it. Even though the world is trying to recover from the impact of this pandemic, things are not 100% back to normal, and students and the academic institutes are making changes in the way they came together and proceeded with the learning process.
Even though learning and teaching have suffered a lot, the think tanks are coming up with ways to move things in the right direction, it also affects the trends in learning as well as eLearning. Strategies are being revamped to adjust to the new environment and continue with the spread of education even during the times of social distancing and home quarantine.
There are thousands of people who turned to virtual learning from the traditional methods which is setting a trend for eLearning and encouraging many others to see how the others are benefiting from it. It would not be wrong to say that pandemic has played the role of a catalyst in the growth and spread of the eLearning concept, and this has made it a crucial part of the future.
Based on the insights from the educational industry experts and top eLearning development companies, the experts are coming up with what will be the top learning trends in 2022 that will lead to rapid progress in the future.
Top 5 Trends In Elearning That Are Expected In 2022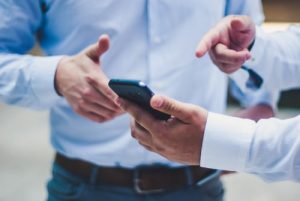 As the eLearning industry is expected to experience gigantic growth after the pandemic, this industry has benefited immensely from changes in learning habits and a rise in virtual inclination. Based on what this industry has been through and what changes are expected, listed here are some of the top eLearning trends that will help to transform things in a much better way. Read on to know what eLearning trends are expected in the coming year and how they can help to make things better.
Mobile-First Learning
The first and the most effective trend of eLearning is mobile learning. These days it is the most understand explored trend by companies, higher educational organizations, institutions, and other agencies, but it is predicted that as mobile usage increases in the coming years, it will be one of the most popular sources of learning and knowledge in the future.
Research shows that more than half of the world's population is using a smartphone these days, whether it is for educational purposes, personal or academic purposes, and this usage is expected to increase in the coming years. Up till now, most of the organizations and academic organizations have not been able to create mobile-friendly platforms for employers and students to get moving with learnings. Building mobile learning as a platform is more than an effective task that can yield positive results in the coming years. The outbreak of pandemic made various organizations and academic institutes adopt mobile apps to continue with the learning and research tactics.
Adaptive Learning
When we talk about the second eLearning trend, adaptive learning plays a key role in personalization and helping students learn better. Study by experts of a dissertation writing service shows that with adaptive learning, employees, as well as students, can have better learning calculation, preparation, and plans that give them a chance for personal growth. It facilitates students to a large extent and enables them to pick their own learning way.
Students can gain from the content at their speed which leads to better comprehension and fast-paced learning. Along these lines, representatives see this preparation as a chance and not as an enterprise to be finished. Adaptive learning strives to ensure that students get the right data gave in the right measurement and spans, and it has the potential to be an excellent trend in 2022.
Social Learning 
Social learning includes straightforward cooperation between associates in the working environment or between friends during collaborative learning is a great way for learners to move forward. The coming years seem to bring a positive change with a focus on social learning that will take place through different modes like casual talks, discussions, and sharing meetings.
The idea of social learning and interaction makes it a practical way to move forward in the right direction, which promotes open, effective, and cutting-edge experiences where remarkable development can be seen. Social platforms and specialized devices are expected to play a crucial role in 2022 as the general public, particularly students are more attracted towards technology and it will help them in academic as well as professional growth.
Video Will Become The King
Video learning modules are no doubt the spillover trend that we see year after year. They have played a key role in solving the biggest challenges of the eLearning industry by keeping students and learners hooked to what they are watching on their computers or mobile screens. It has been estimated that by 2022, 82% of all online traffic will be video. The videos watching trend will cross the internet at a rate of up to 1 million per second, which is a whopping number.
Videos are the most effective way to generate attention and keep students engaged as compared to a long text or simple photo. Not only are they easy to watch but, recall too. Keeping this aspect in mind, virtual universities will switch to video learning modes in the coming years to facilitate their students and connect with them in a much better way.
Seeing what is currently working for students and educators and how it is benefiting them plays a crucial role in determining what will work in the future. Mobile phones, collaborative learning, and social interaction have become very popular, and they will be among the most influential factors that affect education in the coming years.